Haska Shyyan - BATRACHOMYOMACHIA™ Founder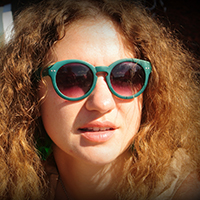 Ukrainian author of prose and poetre, literature translator from English and French, culture manager, producer of book trailers and podcasts, media, communication and behavioural changes expert.
Member of PEN Ukraine.
Studied classical philology in Lviv National University.
In 2012 translated and published the novel "Lights out in Wonderland" by British writer DBC Pierre.
In 2014 Haska wrote her first novel Hunt, Doctor, Hunt! on her cell phone while bedridden, in 2021 it was issued as an audiobook with Haska's voiceover.
In 2019 her second novel Behind Their Backs became the first Ukrainian novel to receive the European Union Prize for Literature, as well as two Ukrainian prizes (LitAccent Award and Espreso TV Readers Choice) and a recognition at book pitch competition of Odesa International Film Festival. She regularly contributes with short stories, essays, and poetry to collections? anthologies and literary magazines. Haska regularly organizes literature events, takes part in the festivals offline and online and received few scholarships and grants for creative projects and writers residences.